Best perfumes for Men and Women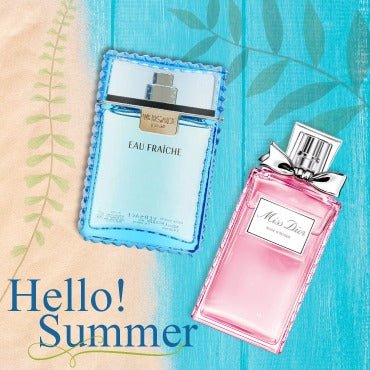 Are you looking forward to your next big event? And if you want to turn heads, you need just the right cologne. The fragrance you carry defines your class therefore it must be mesmerizing and enchanting. In fact, the aroma of perfumes is directly linked with your mood and well-being. So, it is now time that you start thinking beyond the inexpensive fragrances and start investing money in a premium quality perfume.  Check out these five summer perfume brands for men and women in Pakistan. In this article, we have mentioned some unique perfumes that will keep you fresh and well-scented throughout the day with its prolonged scent profile.
Men's Cologne offers an irresistible masculine vibe that makes you stand tall among the crowd for your alluring personality. It is a known fact that your smell can potentially attract opposite gender and draw them towards you. So, why wait when you can purchase imported men colognes from a well-reputed online place. Following are five must-have perfumes that you must own in this summer season.
It is a pure masculine scent meant for men with cutting-edge personalities. Besides that, the perfume is perfect for the summer and spring seasons as it has mesmerizing floral notes. The spicy and fruity fragrance keeps one relaxed and cheerful in the sweltering sunlight. The top notes of the perfume contain Mandarin Orange and a Petitgrain smell. The middle notes of the Cologne have seaweed, lavender, and cotton flower aromas. Lastly, the base note offers Virginia Cedar, Woody Notes, Patchouli, Amber, and Clary Sage.
Polo is a signature men's wear from Ralph Lauren that has made its mark in the hearts of millions of men. It is a woody chypre fragrance that is best for nighttime summer events. If you are a man of class l, this Cologne would genuinely make you stand out among the crowd. The top note of the perfume contains aromas of Caraway, Juniper Berries, Artemisia, Coriander, Basil, and Bergamot. The middle notes offer fragrances of Pine Tree Needles, leather, Chamomile, pepper, carnation, Geranium, Rose, and Jasmine. When it comes to the base notes, you will smell Tobacco, Oakmoss, Cedar, Patchouli, Vetiver, Musk, and Amber.
 
Versace Man Eau Fraiche by the perfume industry titan Versace is known for its Woody Aquatic scent for men. Although, Launched in 2006, this perfume is known for its elegance and freshening aroma. The tobacco smell of Eau Fraiche would take you back to the old days of Spain where men were known for their ma. The top notes are Lemon, Bergamot, Carambola (Star Fruit), Cardamom and Brazilian Rosewood; the middle notes contain the fragrance of Cedar, Pepper, Tarragon, and Sage. The base notes have the aroma of pure Musk, Wood, Saffron, Amber, and sycamore when it comes to the base notes.
The YSL perfume is another version of a famous smell rolled out in 2006. It is by far one of the most loved perfumes by YSL and has a fan following all over the globe. The perfume opens with the aroma of lemon, bergamot, and black pepper. The middle notes contain the fragrance of orange blossom and Indian Davina blossom, woodsy smell and ambergris. The base note of the perfume is Benzoin, Leather, Suede and Cedar.
It is a classic aroma of men with grace. The goodness of the Cologne is like the ageing wine as it gets more intense as time passes. Overall, it is a woodsy smell perfect for the spring and summer seasons. When it comes to the top notes, you can smell Cardamom, Mint, Grapefruit and Tarragon. The middle note of this perfume offers Lavender, Nutmeg and Cedar. Lastly, Patchouli, Cinnamon, Amber, Benzoin, Vetiver, and Sandalwood are the bottom notes.
Women are generally considered delicate and creative. Therefore, their fragrance should also offer delicacy with loads of feminine energy. Make the men go wild with the mesmerizing colognes that represent your personality. Here are five good perfumes that would add to your personality in the coming summer season. According to men's favorite perfume on women reddit form, all of these colognes can help you in catching the heart and stare of opposite gender. Check out these famous ladies perfume brands in Pakistan.
This floral fruit gourmand cologne is all you need for the spring and summertime of the year. It is perfect for boss women who love to lead their pack and want to make a style statement everywhere they go. The top notes contain Strawberry, Raspberry, Blackberry, Sour Cherry, Black Currant, Mandarin Orange, and Lemon aroma. The middle notes offer a jasmine and violet smell. Lastly, the base note contains Musk, Vanilla, Cashmeran, Oakmoss, Woody Notes, Amber, and Patchouli.
The perfume is famous for its Amber Floral fragrance and is perfect for summer nighttime events. It has both the touch of sophistication and class. The upper notes are Sicilian Bergamot, Pink Grapefruit and Red currant leaf. Besides that, the middle notes are Cactus and Orchid. Moreover, the base notes offer Vanilla, Amber, and Red Cedar cologne. It can last more than 24 hours, making it the best in the market.
It is one of the most highly rated perfumes on our list. Vanitas Have is mostly considered floral and citrus Cologne that works best in hot seasons like spring and summer. Besides that, it is also perfect for casual daytime events—the top notes of the perfume lime. The middle note offers Tiara Flower and Freesia. Lastly, the bottom message contains Virginia Cedar and Tonka Bean.
Although it is an amber floral smell, this perfume is still perfect for all seasons, especially summer. With a beautiful design, Juicy couture is well-loved by every classy woman. When it comes to its top notes, it offers African Orange flowers, Mandarin Orange, and Grapefruit. The middle notes show Plum and Jasmine fragrance. The base notes contain amber, Vanilla, and Sandalwood aroma.
As the name suggests, this citrus smell is perfect for summer. Although a bit pricy, it is still a must-have fragrance for your collection. Top notes of the Cologne contain Orange, Grapefruit, Mandarin Orange, Bergamot, Red Apple, and Plum fragrance. The middle notes have Freesia, Rose, Lily-of-the-Valley, and Orchid smell. Lastly, Magnolia, Mimosa, Lily, Musk, and Amber are the base notes.