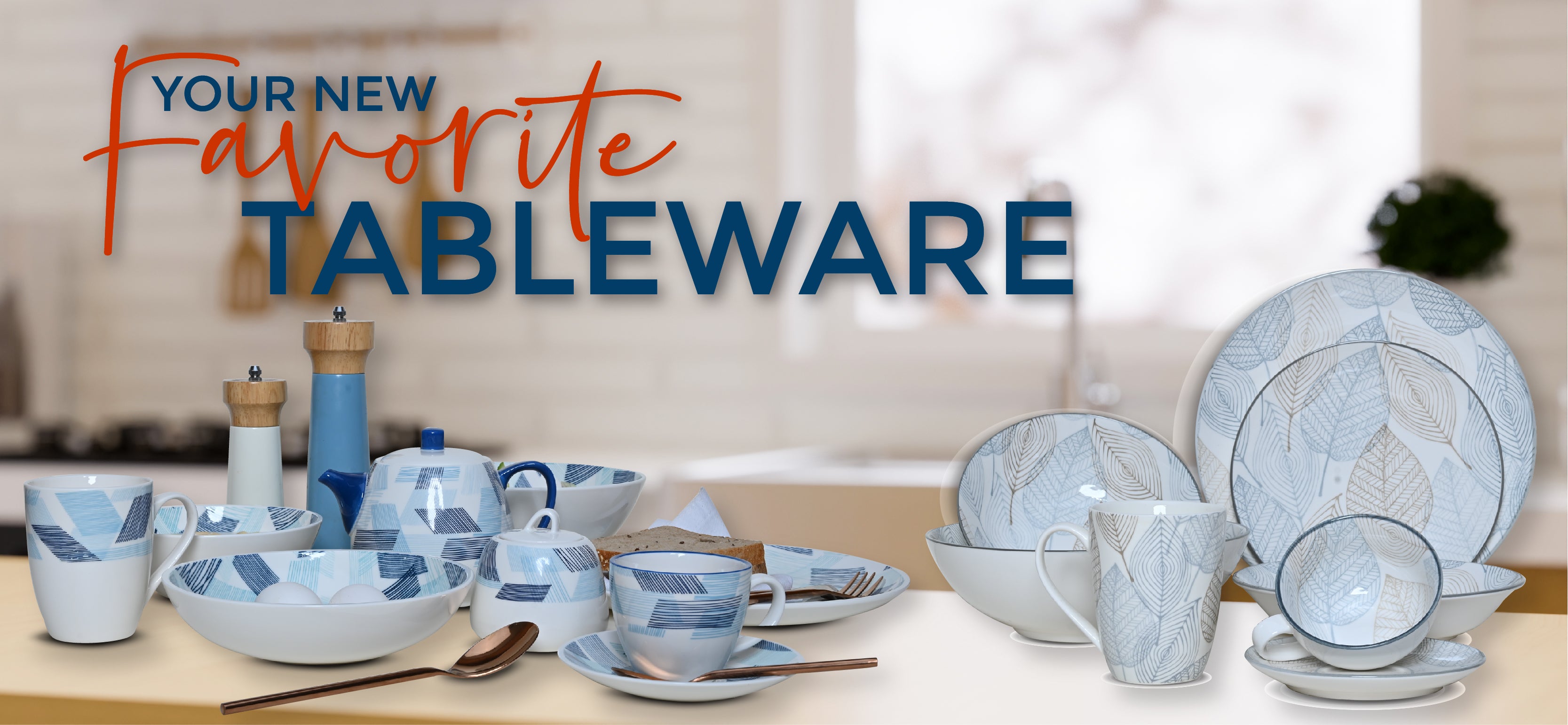 Tableware - Trending Crockery | Serving Dishes | Cutlery Sets | Platters & More
Tableware - Best Crockery in Pakistan | Designs of Crockery You will Love!
Exquisite Collection of crockery including serving dishes, cutlery sets, snack platters, tea sets, dinner sets, glass sets, tumblers etc. Our crockery collection is selected by team of specialists who make sure that you get the best quality and latest designs of tableware crockery in Pakistan.
Presentation of meals is as essential as the quality of food. A well cooked food without proper presentation kills the mood and downplays the effort made in cooking it. However, if you properly present your food in beautiful dishes and platters, it not only signifies your love for those being served but also adds value to the food.
So why take chances? We have got you covered with latest trending tableware collection that will stay in style for time to come and make your food look adorable on the tables.
Any household tableware is incomplete without beautiful serving platters and dishes.
We create a unique value at Needs Store by striving to remain unique. For this, we always remain on hunt in international markets to find unique items like the Mikasa Pattern Tableware which is unique for its traditional Japanese Pattern on crockery.
Best crockery in Pakistan

At Needs-Store, we have the best crockery brands in Pakistan and from all over the world at a very reasonable price tag. We all know that it's not easy to find the best crockery items especially when you don't have any knowledge about the top-selling brands. However; we have listed a wide range of crockery collections at Needs Store to help you out in this regard. These include Corelle Breakfast Sets, OvenFresh Stoneware Collection, Mikasa Crockery and a lot more.
Why Needs Store?

There are plenty of reasons to choose us instead of any other online crockery store. We have a huge collection of imported crockery in Pakistan that you won't find anywhere else. Another reason to choose needs-store over other online stores is our high-quality products and customer-friendly policies. There is no need to look for crockery whole-sellers in Pakistan because we are offering the most reasonable prices of crockery items. Further our superior quality of service after sales is our hallmark in the market. For us, customer satisfaction is supreme. 
Our tableware collection includes following major categories:
Serving Platters & Crockery Dishes:
Serving platters and dishes are a must-have in any tableware collection. Whatever you cook in your kitchens, needs to be presented in the most elegant way. Your selection of crockery is therefore very important. Our procurement team takes care of this need and makes sure that you get the latest trending serving platters in Pakistan. If you are looking for the best serving plates and platters, don't forget to check our tableware collection.
Serving Platters can be used to serve a variety of food items including fruits, bar be cue, snacks, etc. Our green serving platter with a gold base is the most popular amongst our platters.
Most of our clients also love the three tier dishes as it gives them more space for their servings. You can use each tier to create variety in the serving. This three tier platter is especially famous for tea time servings including cakes, pastries and patties. 
Serving Bowls in Pakistan
Serving Bowls is a necessity for every household. You need bowls to serve snacks at tea time or to serve desserts after lunch or dinner. We have one of the finest collections of serving bowls in Pakistan. All-Purpose Porcelain bowls and ceramic serving bowls have remained one of our best sellers.


Soup Bowls- Ceramic Bowls Online Pakistan

Soup Bowls are also one of our top-selling items with highly positive customer feedback. We have listed all kinds of soup bowls, fruit bowls and salad bowls on our online store to full fill your needs. When it comes to soup bowl set price in Pakistan, Needs Store proudly offers soup bowls in a very affordable price range without compromising on quality.
Salad Bowls in Pakistan

Needs Store is one of the few trusted online stores offering high-quality salad bowls in Pakistan. When it comes to quality, no other online crockery store can beat us because we have our utmost focus on customer satisfaction. You can scroll through our tableware collection and order your favorite salad bowl anytime.
Cutlery Sets :
No tableware collection is complete without beautiful cutlery sets. At Needs Store, we have got premium cutlery sets collection in different designs and colours. The most famous amongst them is our glazed black cutlery set.
In cutlery the make and finish of the product is of prime importance. The cutlery has to have weight which defines its quality. Cheap quality cutlery is also available in the same designs but it lacks quality and the glaze goes away with time. Keeping this in mind, special focus is given to the quality of the cutlery sets. Our premium quality cutlery sets will be easy on hands and will keep their shine and colour for years to come. Checkout the best cutlery sets in Pakistan and start enjoying your food in a healthy and stylish way.
Decor Trays:

Decor tray is another popular and top-selling category at Needs Store. Our team has listed down the best products available in this category for our customers. If you are looking for a bamboo tray in Pakistan or any other product, this crockery store online is just for you. Remember, the tray set price in Pakistan depends on several factors such as brand, quality, etc...
Serving Tray

Gone are the days when people used to import serving trays from foreign countries. Needs Store is now offering top-notch serving trays in Pakistan. If you want more details about serving trays, such as serving tray prices in Pakistan, don't hesitate to contact our customer support.
Coffee & Tea Mugs (Tea Set)
No crockery collection is complete without coffee and tea mugs and cups. Tea mugs come in a variety of shapes and sizes. Few of them come standalone whereas others come with a serving dish and spoons on side. It depends on the time of your serving. In the mornings a good-sized coffee mug is important to give you the right amount of coffee or tea for a morning boost. Later in the evening when you want to take tea with your loved ones, some side platters are also required such as tea cup set. The tea set price in Pakistan is quite reasonable at needs store with huge variety. 
Therefore, in your collection of tableware, you must have both single serving mugs and those with serving dishes and platters. Our crockery collection includes both and you will have a good variety of mugs here. 
Breakfast Crockery Sets in Pakistan
At Needs Store we have a very unique crockery collection including the breakfast sets to give a jumpstart to your daily routine. You can view the entire range in our tableware collection. One of our all time favourites are these latin american breakfast sets in blue and red.
Besides these we have best collection of kitchenware accessories that can be handy while cooking. 
So sit back, relax and shop from our collections for a beautiful looking dining table and happy tea times!