Tips for Choosing the Perfect Dinnerware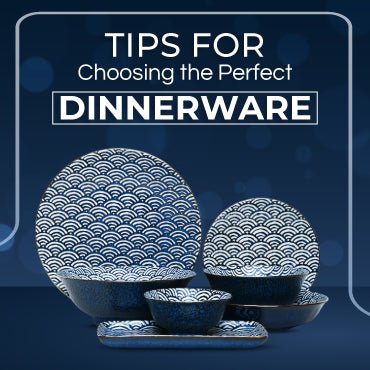 Dinnerware is one of the main attractions of any dining table; therefore you need to make a smart purchase decision. Choosing a new dinnerware seems to be a daunting task for most people. We all know that there are different types of dinnerware available in the market and choosing the best out of it requires some research and experience. Even if you are trying to replace your current dinnerware set, this guide will surely help you make the right selection.
This article will discuss some of the critical buying factors you must consider before choosing a best dinner set in Pakistan online for your dining table.
You should compare the dinnerware set that you want to buy with your current dinnerware set and think about whether it matches your old dinnerware set or not. You can make a smart judgment by comparing your old dinnerware set's color, material, and pattern with the new one.
Analyze Your Needs
Before choosing a brand new dinnerware, it's very important to know about any specific requirements you have. For example, will you use this dinner set for outdoor parties on regular basis? If yes, you should wisely select durable dinnerware set made from porcelain and bone china. At Needs Store, we have the best affordable dinnerware sets made with premium quality materials to handle rough and tough use.
Choose the right color scheme
Plain white dinnerware sets are more popular due to many logical reasons. The plain white color is dishwasher safe, and it can easily match any decor as it never goes out of style. However, you can choose any of your favorite colors according to your dining room color, especially if you are conscious about home decor. You can find various appealing colors of serving dishes, mugs, cutlery sets, bowls, and other crockery items at Needs Store.
Consider the Size of Dining Table and Storage Spaces
Before you finalize any purchase, don't forget to measure the size of your dining table and kitchen cabinets to avoid any problems in the future. While there are standard sizes for most of the dinnerware sets, there is still some variation. You should carefully decide the most appropriate size to fit into your dining table and storage spaces easily.
Determine a Budget
If you are planning to shop online, you must decide on a rough budget estimate. You can specifically choose from those products that come under your price range by doing this. In this way, you won't get confused between hundreds of choices as the results will be filtered as per your price range.
Last but not least, it's very critical to shop online from a reputable online store to avoid wasting your hard-earned money. From horrible customer reviews to refused returns, there are a lot of problems that you can face after choosing the wrong platform for online shopping.
Why Needs Store For Shopping Dinnerware Set Online in Pakistan?
Needs Store is one of Pakistan's best online shopping websites for buying household accessories online. We all understand that it's very difficult to trust any online store to buy sensitive items such as crockery, decoration pieces, kitchen appliances, etc... However, there is no need to worry about these things while shopping online from Needs Store.
We offer easy returns for all purchases without asking any questions under 30 days. You will be surprised to know that we do not charge anything for shipping if the order amount is above RS.1890. You can contact our customer support on WhatsApp anytime for more details and queries.