6 AMAZING CHARACTERISTICS OF SHERPA BLANKETS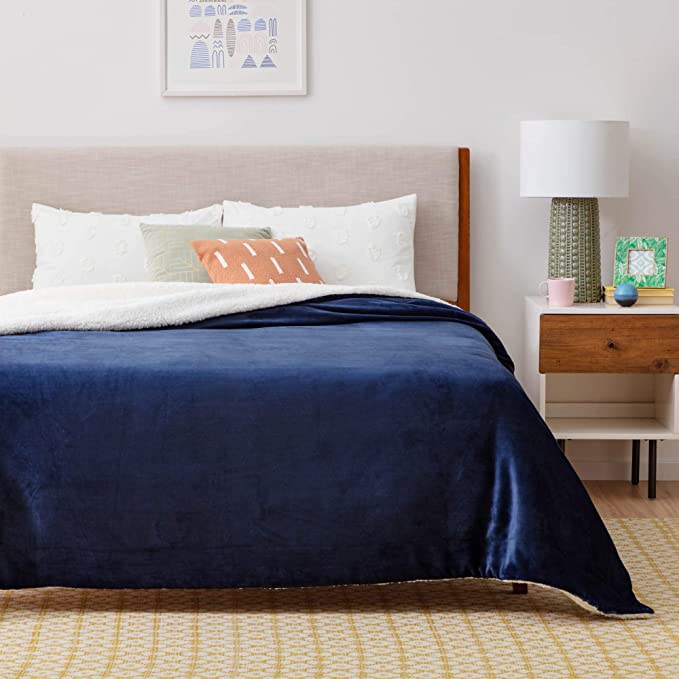 6 AMAZING CHARACTERISTICS OF SHERPA BLANKETS
Soft and fluffy, Sherpa is a knit fabric popularly used to line clothing, winter wear, and even household items. The material gives any product a cosier feel, making it perfect to use during the cooler months.
Sherpa's trademark is its super soft and luxurious texture. Generally resembling wool or sheepskin, Sherpa is the perfect eco-friendly alternative to fleece. The quality of Sherpa is very similar to the aforementioned materials, and no animals need to be hurt in the process!
WHAT IS SHERPA?
Named after the Sherpa people of Nepal, the Sherpa fabric resembles the wool lined clothing worn by the tribe. However, contrary to what the Sherpa people wear, the fabric is typically made of pure cotton, a synthetic fiber like polyester, or a blend of cotton and synthetic fibers.
Sherpa is also called faux-sheepskin or faux-shearling. Not only is Sherpa the more animal-friendly alternative, it is also a lot cheaper than genuine wool or fur. However, it feels just as snuggly as the real thing.
The fabric has two sides. One is the stitched woolly side with a soft and bumpy texture comparable to real fleece, and the other side is a smooth knit shell. Together, they make a Sherpa material that is both warm and durable.
Needs-Store SHERPA BLANKETS
Primarily used as a lining for outerwear like coats and jackets, did you know that Sherpa can be used for blankets, too? Because everyone needs to stay warm and comfortable, especially when the temperatures drop. Thus, it makes a lot of sense to create blankets with ultra-cosy Sherpa lining.
If you are looking for a cosy Sherpa-lined blanket, Needs-store offers several options for you. Our Sherpa blankets come in a variety of designs and colours – from neutral and subtle to fun and eclectic – to fit your taste and style.
If you want to know more about Sherpa, here are its 6 amazing characteristics that make it a great material for blankets.
6 CHARACTERISTICS OF SHERPA
Sherpa feels fluffy and comfortable, but aside from this reason, why exactly should you get a Sherpa blanket? Following are the six reasons:
1.   SHERPA GIVES EXCELLENT INSULATION.
One of the best-known characteristics of Sherpa is its excellent ability to retain warmth and preserve heat. Because this fabric has two sides, the smooth side and the furry lining, it creates a strong insulation. It also provides protection against the wind and cold weather.
Using a blanket with a Sherpa lining is akin to sinking into ultra-soft and fluffy clouds. Combined with its amazing heat insulation, a Sherpa-lined blanket is the ultimate thing to have in the winter.
2.   SHERPA IS EFFECTIVE IN WICKING AWAY MOISTURE.
Don't let the fluffiness deceive you! Sherpa is actually a quick drying material, making it perfect for you to use. Similar to pure cotton, Sherpa effectively wicks away moisture, keeping your baby warm and dry.
Because it is a quick-drying material, a Sherpa-lined blanket is also the practical choice for your well-being. It will keep you warm but will also prevent you from being drenched in sweat as you sleep. 
3.   SHERPA IS EASY TO MAINTAIN.
Speaking of practicality, Sherpa is not as high-maintenance as it may sound. In fact, it is very easy to launder. Usually, all you need to do to maintain a Sherpa-lined blanket is to wipe the stains off, wash it in cold water, and use a mild friendly detergent.
Common issues like shedding and pilling are also relatively easy to solve. For example, to avoid shedding, it's best to put the blanket in a laundry bag when you wash it. To avoid pilling, you may also opt to hang the blanket on a clothesline.
4.   SHERPA IS LIGHTWEIGHT AND LESS BULKY THAN FLEECE.
With all of these awesome qualities of Sherpa, you may expect that the fabric is heavy and bulky. This could not be farther from the truth. Despite its thickness and plushness, the Sherpa material is actual lightweight and not bulky!
Sherpa feels delicate and luxurious, but a Sherpa-lined blanket will not feel like a weighted blanket. On the contrary, because Sherpa is so lightweight, you can actually have it in the car to keep you warm and cosy wherever you go.
5.   SHERPA IS THE BETTER ALTERNATIVE TO ANIMAL PRODUCTS.
Genuine wool and fleece make for premium and durable products. What's great is that Sherpa also does the same thing, only that it uses cotton or synthetic products to achieve the same results.
If you want a blanket that provides warmth without the unnecessary animal cruelty, then Sherpa is the way to go. Sherpa does not compromise quality either as it is tough, durable, and long-lasting.
6.   SHERPA IS STYLISH!
Sherpa definitely adds flair to any product, especially blankets. When added a soft Sherpa side, blankets become even more pretty and adorable. This fluffy material makes an otherwise ordinary blanket extraordinary. 
Needs-Store Sherpa-lined baby blankets come in a wide variety of colours and hues that are pleasing to the eyes. They come with a 100% cotton side that features printed designs that will add charm to your room.
Are you ready to shop for Sherpa-lined blankets? Click here!